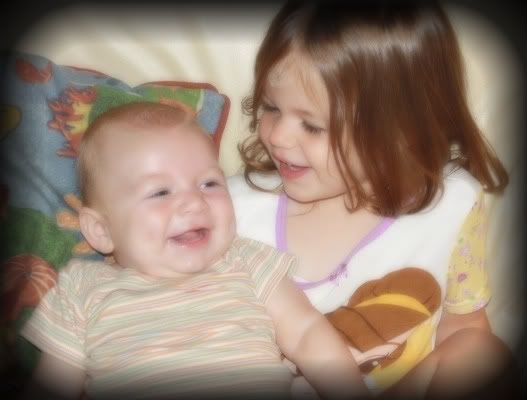 "A picture is worth a thousand words" ~ Frederick R. Barnard
Can you
see
it?
It's written
all over their faces
!
Love!
Even at such a young age the love my children have for each other is
radiating
off of their faces!
If children know how
easy
it is to love, and how to express and show that love, then why don't
we
? Why do we
struggle
with loving each other? Why do we
condemn
and
judge
one another?
And now these three remain: faith, hope and love. But the greatest of these is love. ~ 1 Corinthians 13:13
"This is my commandment, that you love one another as I have loved you." ~ John 15:12
Just think, for one second, how much
happier
of a world this would be if we all learned to love just a little more! If we
judged
less and
embraced
more!
Oh what a joy that would be!
Jesus said, "Let the little children come to me, and do not hinder them, for the kingdom of heaven belongs to such as these." ~ Matthew 19:14