Christmas is by far the greatest time of the year! The celebrating, decorating, giving/receiving, and the eating, really make for a wonderful time! But, it is in that time that we can really get into trouble as Christians.
We can get so wrapped up in the spending and the decorating that we tend to lose sight of why we even have Christmas in the first place!
For to us a child is born, to us a son is given; and the government shall be upon his shoulder, and his name shall be called Wonderful Counselor, Mighty God, Everlasting Father, Prince of Peace. ~ Isaiah 9:6
Two wonderful blogs that I follow,
Women Living Well
and
Welcome to Our Wonderland
, are hosting Christmas challenges that I think are just perfect to get our spirit where it needs to be this holiday season.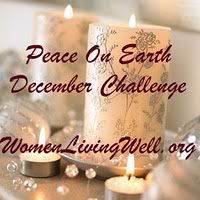 Courtney at
Women Living Well
is hosting the
Peace on Earth December Challenge
. Each week from now until December 27th, Courtney is going to give us one pratical tip and one spiritual tip that will help bring us peace during this hectic holiday season. You can visit her blog for more info and to sign up.
Welcome to Our Wonderland
is hosting the
Rediscovering Christmas Bible Challenge
. The instructions for this challenge are as follows: read a chapter a day for the 24 days (Gospel of Luke has 24 chapters)leading up to Christmas. Reading the Gospel of Luke will have us focusing on the birth, life, and promise of Christ.
You can visit her blog as well to learn more info and to sign up!
I hope you will consider joining me in getting our Spirits back to where they need to be this Christmas season and enjoy all that God has to offer to us! He sent His Son and gave us the greatest present we could ever ask for!
Shout for joy to the LORD, all the earth, burst into jubilant song with music; make music to the LORD with the harp, with the harp and the sound of singing, with trumpets and the blast of the ram's horn— shout for joy before the LORD, the King. ~ Psalm 98:4-6