When I signed up through
Amy's
site, I immediately started praying about it and preparing myself for this challenge! I knew it was going to take
a lot
of prayer,
a lot
of dedication, and
a lo
t of support from my family, for me to be able to complete this challenge. My husband is on board to help out in any way he can...thank you Jesus for my
wonderful husband
! I know this is not going to be easy and there are going to be days I may struggle with it, but with God's help and my fellow B90'ers prayers and support, I
will do this
! "Anything that is worhwhile, doesn't come easy."
Let me share a little background with you. I have been saved since I was 9 years old. I asked Jesus Christ into my heart when I was in the 2nd Grade. (I had attended a private school). I remember my teacher, during Bible Class, talking about Jesus and being "born again". She had asked those of us who wanted to ask Jesus to live in our hearts to form a circle in the back of the room. I remember being excited and knowing that this is something I wanted to do. I loved Jesus and I knew I wanted Him to live in me.
I immediately got up and went to sit in the circle. My teacher then joined us in the circle and we all repeated after her the sinners prayer. I remember that moment like it was yesterday! What a wonderful feeling that was!
Since then, I have re-dedicated my life to Christ. I, unfortunately, made some mistakes and got off the path of righteousness during my "teen" years. But, I serve a loving, forgiving, God and, Hallelujah, He didn't let me get too far! He grabbed a hold of me and brought me right back! My husband and I were water baptized in November of 2007 and my relationship with Jesus Christ has only gotten stronger since then!
I have read the Bible before...as in a scripture or two here and there...but have never read through the entire Bible. I have also been struggling with finding the time, dedication, and motivation, to have a regular, daily, quiet time with my Heavenly Father. I know it is very important for my walk with Christ and it is something that I need and want to do! I am praying that this Challenge will help me to achieve both. I pray I will complete with great success and that through this daily challenge, my life will become accustomed to spending time in God's word daily! I need to feed my soul!!
Today's reading was Genesis Ch. 1-16. I have heard these stories many times before, but it was like I was reading it and hearing it all for the very first time! I know I am meant to do this challenge and that my heart and mind are in the right place and are prepared and ready for whatever God has in store for me!
If you haven't already joined in on this challenge, would you please consider signing up? It is not to late! Just click on either of these sites to read more about the challenge and to sign up!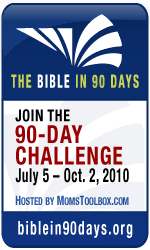 Blessed is the man who does not walk in the counsel of the wicked or stand in the way of sinners or sit in the seat of mockers. But his delight is in the law of the LORD, and on his law he meditates day and night. He is like a tree planted by streams of water, which yields its fruit in season and whose leaf does not wither.
Whatever he does prospers. ~ Psalm 1:1-3