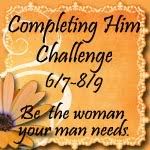 Todays Challenge is to Admire Your Husband. If you are a blogger write a post all about your husband and what you admire in him and then show it to him! He will smile!
I can honestly say this is an easy challenge for me for I admire a lot about my husband!
*I admire that he is an extremely hard worker and a wonderful provider. I never hear him complain about how hard he works...both outside and inside the home!
*I admire how he loves...and how much he loves
*I admire his caring ways
*I admire how honest and trustworthy he is
*I admire his humor and wit...this is something that first attracted me to him
*I admire his passion for exercise and being healthy. Being fit and in shape is something that is very important to him
*I admire his faithfulness and love for our children
*I admire how much he cares for others and how willing he is to help
*I admire his ability to learn...and learn quickly. He is so smart!
*I admire the fact that he chose me for his wife and that he loves me even after knowing who I really am!
God truly made him for me and I am truly blessed and grateful! He created him and molded him to become the mate I needed and deserved! How awesome is our God!!
Wives, be subject to your own husbands, as to the Lord. For the husband is the head of the wife, and Christ also is the head of the assembly, being himself the savior of the body. But as the assembly is subject to Christ, so let the wives also be to their own husbands in everything. ~ Ephesians 5: 22-24