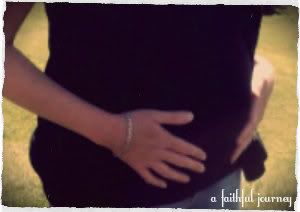 I have been thinking of you a lot lately.
It may have something to do with the constant kicking, but I honestly do not mind.
Kick away, little one. I like knowing that you are there and like to think that you are trying to kick your way out, because I know you are just as anxious as I to meet!
I have to tell you how blessed you already are.
God has given you an amazing big sister who has prayed for you long before we knew you were coming. She is just as anxious as, if not more than, I am for you to arrive! Oh the plans she has for you! Sisters are a blessing...a treasure! I love my sister, your Aunt Holly, and I pray you and Emma become the best of friends, as sisters should!
And Caleb...your big brother...oh what a joy! I always wish I had an older brother. So this, sweet one, is truly a gift indeed. He is so gentle and kind-hearted. I have a feeling that he is going to take you under his wing and show you how to do most anything. He is going to look out for you and be your protector, but most of all, your friend, just like a big brother should be.
Your daddy, is amazing! As you get a bit older, he will be the one with whom you will have all the fun with! He will chase you and do somersaults with you, wrestle on the couch, jump on the bed, and teach you how to laugh at just about everything. He will love you so hard and make sure that you know it each and everday! Emma and Caleb adore him, but I know they will gladly share him with you!
As for me, well, I am your mama. I will love you no matter what. I have prayed for you from the beginning...always knowing from way back when that I wanted to be a mama to as many children as God will bless me with! I am looking forward to seeing you grow and witnessing your personality; your likes and dislikes; and just how different, or alike, you and Emma will be! I can't wait to look into your eyes and see you smile for the first time - hearing you laugh and talk for the first time as well! I am anxious to see if you will end up with red hair, or the same light brown as Emma and Caleb. But most important, I cannot wait to teach you about Jesus and watch you fall madly in love with Him! For He loves you more than your daddy and I ever could!
Counting down the weeks...11 more to go! I cannot wait, baby girl!
For you created my inmost being; you knit me together in my mother's womb. I praise you because I am fearfully and wonderfully made; your works are wonderful, I know that full well. ~ Psalm 139: 13-14