My Oaklet Shawl is blocking as we speak, but I had to get some pics up of it, even though it is not technically finished.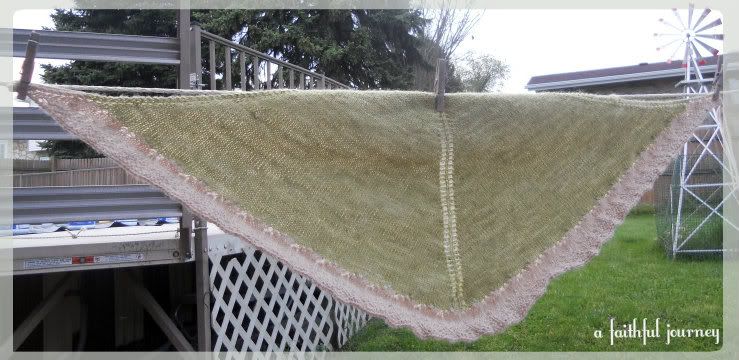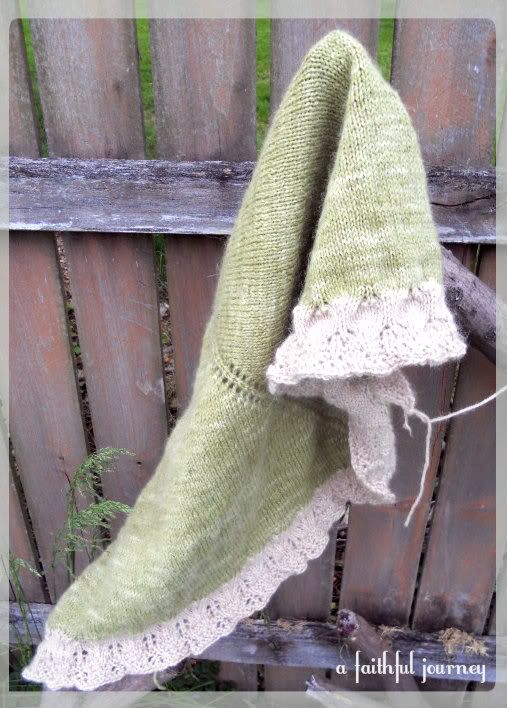 I am pretty pleased with how it turned out, especially since I had to add a different color yarn for the border. I am just hoping that after blocking, it stretches out a bit more, since right now it is just sitting right over my shoulders and not quite wrapping around to the front.
We are leaving this Saturday and heading to Michigan to visit my aunt, whom this shawl is for. I am really hoping she is pleased with how this has turned out!
I am now going to cast on a shawlette for my mother-in-law for Mother's Day. Hoping that the drive to and from Michigan allows me ample knitting time so I have it finished by Mother's Day. I decided on the Two-Step and Tango Scarf and Shawlette. I am using this gorgeous, hand-painted, yarn from Zibeline Knits. It was gifted to me about a year ago and sitting lovingly in my stash ever since. I think it will knit up into the perfect, little, shawlette.
On the reading front, I am about 100 pages from finishing
The Fault in our Stars
. It is pretty good, but I am anticipating a teary ending. It's YA, which I typically am not drawn to, but lately finding myself reading a lot of. Once I finish this, I am hoping to start on
The Girl Who Chased the Moon.
I am really enjoying all the Sarah Addison Allen books I have read and am sure this one will not disappoint either.
What are you working on?
Linking up with Ginny!