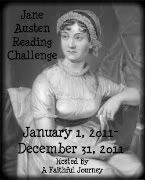 It's our first check-in for the Jane Austen 2011 Challenge! How are you all doing? Read/watched anything yet?
I have been busy with reading the
Emily books
for the
L.M. Montgomery
challenge as well as my daily
Bible in 90 Days
readings to read any Jane yet. Planning on starting in February with
Pride and Prejudice
and going from there!
If you have read or watched anything Jane, I would love to hear your thoughts. Just leave a comment-no blog post is necessary.
Heads up
: Our first giveaway will be sometime in March, so make sure to watch for that!
Until next time friends, Happy Reading!
"To sit in the shade on a fine day, and look upon verdure is the most perfect refreshment." ~ Jane Austen
"Love the Lord your God with all your heart, and all you soul, and all your strength, and all your mind. Love your neighbor as yourself." ~ Luke 10:27