This recipe reminds me of Thanksgiving Dinner mixed into a casserole! It was very yummy and I hope you and your family find it deliciously appetizing as well!
Ingredients
:
1 pound ground turkey
1 large butternut squash, cubed
1 medium onion, chopped
2 eggs
1 cup milk
1 cup shredded mozzarella cheese
3 tbsp. butter, melted
1/2 tsp. nutmeg
salt
pepper
1 cup crushed ritz crackers
Directions
:
In a large skillet, cook turkey over medium heat until no longer pink. Add the 1/2 tsp. of nutmeg and S&P to the turkey while it is cooking.
Add the squash and onion. Cook until vegetables are crisp-tender.
Meanwhile, in a small bowl, combine eggs, milk, cheese, butter, salt, pepper, and a pinch of nutmeg. Stir into the turkey mixture once the turkey is no longer pink.
Transfer to a greased baking dish. Sprinkle with the cracker crumbs.
Bake in a 375* oven for 35-40 minutes.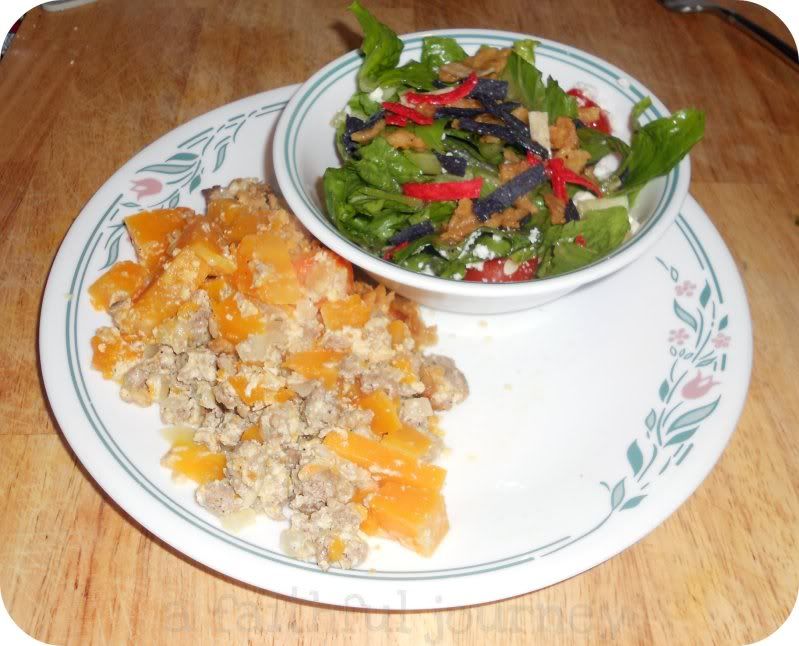 Enjoy!
Laziness brings on deep sleep, and the shiftless man goes hungry. ~ Proverbs 19:15