I recently participated in my very first swap on
Ravelry
. It was a yarn swap and the theme was "Beach Party". The requirements were to spend $20 on your swap partner. The "box of goodies" had to contain yarn, something homemade, and a few other "beachy" themed items.
I have to admit, I was a little nervous going into this swap. I was scared of either not recieving anything, or recieving, well, lets be honest...junk! Also, I was nervous that my "box of goodies" that I was sending out would not be sufficient enough.
Needless to say, I was pleasantly surprised when I recieved my box yesterday! My swap partner outdid herself and I have been completely blessed by her. She has been wonderful with communicating with me from the beginning and could not say enough nice things about her.
Here are the wonderful "goodies" I recieved:
Two balls of Bamboo yarn (that she stated were her favorites) and Stitch Markers that she made for me!
Hand knit Little Beach Bag (that she made for me!)
Knitting Magnet (again, that she made)
Two knitted "beach balls" for my kids and a can of Tennis Balls for my dogs! (she even thought of my dogs!!)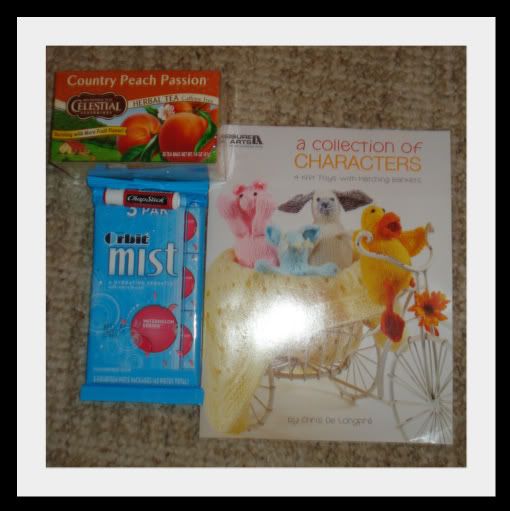 Peach Tea, Chapstick, Watermelon Gum, and a Pattern Book to make little animals for my kids!
I can't begin to say "Thank You" enough! Her kindness and thoughtfulness went above and beyond! God sent me a wonderful blessing through swapping yarn! Recieving that box yesterday put the biggest smile on my face and I just wanted to let her know how truly thankful and blessed I was by it!
Now, I only hope she loves what she has gotten in return.
(I would state what I got her, but she may read this before she recieves my box!)
Proverbs 11:25 - The generous person will be prosperous, and he who waters will himself be watered.