Keep your lives free from the love of money and be content with what you have, because God has said, "Never will I leave you; never will I forsake you." ~ Hebrews 13:5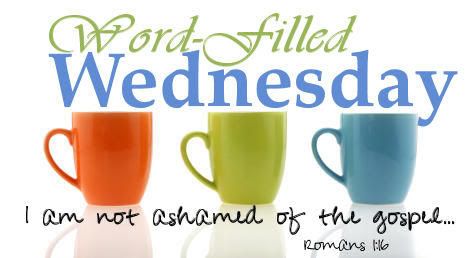 When trying to post a verse for todays WFW, I was coming up blank. Usually something always seems to pop into my head when I get ready to write, but that didn't happen today.
I began to pray, asking God what He would like for me to say; which of His words does He want me to share?
I have a stack of notecards that I write Bible verses on that have stuck out to me; ones that have spoken to me; ones that have meant something to me. I began flipping through them and that is when I found Hebrews 13:5. As soon as I had re-read it, I knew it was the verse God wanted me to post today.
Today was "bill day". My husband gets paid the 15th and 30th of every month and on those days I sit and write the bills out. I am usually stressed on those days. I get so overwhelmed, being a SAHM, with finances and trying to budget to make sure we have enough money to get us through to the next paycheck. But reading this verse today among my stack of bills and checkbook, I felt a calming come over me.
God is in control!
He has
always provided everything my family has ever needed
and I know I can rely on Him to continue to provide.
I pray this verse will be a comfort to you. Our Heavenly Father will supply all of our needs. We just need to remain faithful...He will take care of the rest!
And my God will meet all your needs according to his glorious riches in Christ Jesus. ~ Philipians 4:19