It has been a very eventful week and I have so much I would love to say, but will keep it short!
I would like to start with a scripture as part of
WFW
!
I love this verse! It has always been a comfort to me. It has reminded me that in the worst of times, God is always in control. He has our days planned out for us. As long as we remain faitful, He will guide us through even the roughest of days!
Today is the first discussion day for the GWTW Read A Long. I created a seperate page (tab can be found at the top of this page) with discussion questions! Please feel free to join in! If you decide to answer the questions, or just decide to discuss with us, please use the Mr. Linky box to link us to your blog!
My Pick Is: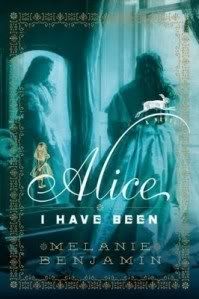 Alice Liddell Hargreaves's life has been a richly woven tapestry: As a young woman, wife, mother, and widow, she's experienced intense passion, great privilege, and greater tragedy. But as she nears her eighty-first birthday, she knows that, to the world around her, she is and will always be only "Alice." Her life was permanently dog-eared at one fateful moment in her tenth year–the golden summer day she urged a grown-up friend to write down one of his fanciful stories.
That story, a wild tale of rabbits, queens, and a precocious young child, becomes a sensation the world over. Its author, a shy, stuttering Oxford professor, does more than immortalize Alice–he changes her life forever. But even he cannot stop time, as much as he might like to. And as Alice's childhood slips away, a peacetime of glittering balls and royal romances gives way to the urgent tide of war.
For Alice, the stakes could not be higher, for she is the mother of three grown sons, soldiers all. Yet even as she stands to lose everything she treasures, one part of her will always be the determined, undaunted Alice of the story, who discovered that life beyond the rabbit hole was an astonishing journey.
A love story and a literary mystery, Alice I Have Been brilliantly blends fact and fiction to capture the passionate spirit of a woman who was truly worthy of her fictional alter ego, in a world as captivating as the Wonderland only she could inspire.
To play along, just answer the following three (3) questions…
* What are you currently reading?
Gone With the Wind by Margaret Mitchell and Little Bee by Chris Cleave
* What did you recently finish reading?
The Hunger Games by Suzanne Collins
* What do you think you'll read next?
Anne of Green Gables by L.M.Montgomery
I take on a lot and love to participate in a lot of things...which is why my blog is turning into a little of this and a little of that!
Hoping you find it enjoyable as well as helpful! Thanks for coming along!
Happy Reading and Peaceful Knitting!
Blessings!
Amy
"For I Know the Plans I Have for You." says the Lord. Jeremiah 29:11